Earlier, I decided I would share with you, lovely readers, my top picks for the Spring 2010 shoes. I had to put this on hold because of the holidays but now its time to finish it up! I have shown you my favorite
boots
and
flats
for the season and today is pumps.

The range of

different

styles this season is crazy. There were

girly

pinks and patent leather next to studs and snakeskin. Yet each shoe was so unique and beautiful.


Stuart Weitzman- Python Printed Studs Open Toe Pumps
I love the mix of different textures on this shoe. The snakeskin with the studs should have been too much but somehow looks just right. I'm right on board for the whole platform trend this season. I'm super short, so the more height the better. This heel looks manageable while still avoiding chunky.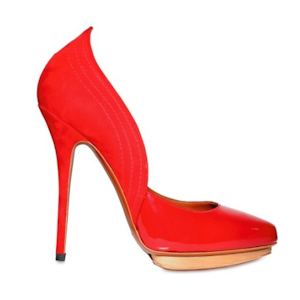 Lanvin-Patent and Suede Pumps
The structure of this shoe was what drew me in. I love the swooping motion of the sides and the color is so vibrant and exotic. For some reason I picture wearing these on some seaside vacation.

Giuseppe Zanotti-Patent Leather with Rubber Platform Pump
I love the simplicity that these shoes offer. The color is classic while the shape is modern and updated. I love the idea of the rubber platform and I think these are the perfect replacement for your basic nude pumps.

Fendi-Lycra and Plexi Peep Toe Pumps
These were my favorite from the bunch. Like I mentioned before I am a huge fan of the platform trend and I have always loved clear details. I'm also in love with the clever placement of the Fendi logo on the back of the plexi platform. I think its an unusual shoe but very forward and when worn right could be very beautiful.

View the rest of the Best of 2010: