As I mentioned here, this week I am sharing my favorite shoes available from the Spring 2010 collections. Today's category is boots. There were several different styles this season for boots. However many of the designers seemed to go in the direction of edgy combat boot style. While I am a fan of that look, I was more inspired by a few of the different pieces.

Giuseppe Zanotti- Washed Denim Ankle Boots
I love this boot. Its refreshing amoungst all the black and can be paired with almost anything. I really love the silver stripe along the top as well. It adds flare.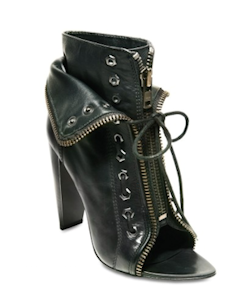 Alexander Wang- Freja Laced Zip Boots
Even amoung the see of black combat boot look-a-likes this boot stands out. I love the way it appears to be a boot within a boot. Its edgy without being over the top.

DSQUARED- Patent Folded Booty Boots

I love how different these shoes are. The orange color makes them stand out and the shape it to die for. I also love the rock and roll touch the black rugged soles lend to the shoe.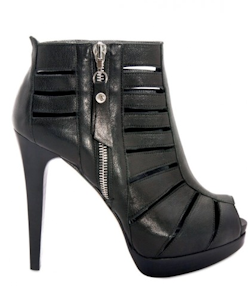 Stuart Weitzman- Peep Toe Low Booties

These are right on trend. I think that the spring clothes are starting to soften up a bit but florals with leather and zippers will always be a good combination. I can see these shoes paired with a knee length floral skirt.
So,Santa, if your listening these are at the top of my list. ;-)
Which do you like best?